How did you become fascinated with Eva Braun?
About 15 years ago I read The Fuhrer's Bunker by W.D. Snodgrass. This collection contains poems from the point-of-view of every person who was in the bunker during the last days of World War II. Snodgrass is one of my favorite poets–I admire him greatly, but I wasn't thrilled with the way Eva was portrayed: a woman concerned with singing catchy songs and cowering to Hitler's twisted sexual needs. As the years passed, I researched Eva and found that there are only a handful of books devoted to her, but hundreds written about Hitler.  I wondered why she would love this man, why she would die with him. Something in him must have been lovable or at least worthy enough of her attention and devotion. I am fascinated with WWII especially the appeasement that England and France tried by allowing Hitler to take without conflict the Rhineland, Austria, etc. I am intrigued that Hitler laid out his plans in his book Mein Kampf, but people did not take the work seriously enough to see him as a major threat until it was too late and a war world started.   I considered that perhaps that is how Eva came to be with Hitler. I assume that he tested his power in their relationship and when he found that she wasn't on the defensive, he continued the manipulation until it was too late. Eva was a working class girl and she did not have many options. She chose to stay and be able to live comfortably rather than go home to her parents. Then she chose to die with her lover rather than leave the bunker. What she knew of the death and destruction that Hitler created one cannot really say for sure, but she had to have known as did many of Hitler's adjutants and generals that Germany was moving in the wrong direction.
Genocide of any sort is wrong, but has been allowed to occur in our world even after the Holocaust. I believe we need to discuss these atrocities to raise awareness because it seems history likes to repeat itself. As I examine Eva's life and death, I hope to present her as a human being—flawed, ignorant, creative—a woman who went down the wrong path.
I love research and work that is generative to the writing process—as Snodgrass was for your own thinking and writing. I'm especially admiring of the work writers do to rewrite and re-represent women writers in the historical and/or literary record as a way to reimagine their lives. I'm thinking, for example, of the work by Carole Oles' Waking Stone, Natasha Trethewey's Bellocq's Ophelia, Anne Sexton's Transformation, Jennifer Franklin's Persephone's Ransom, as well as work by Alyse Knorr, J. Hope Stein, Sally Rosen Kindred, Julie Brooks Barbour, and many others. In the February 2015 The Writer's Chronicle feature on pedagogy asks, Who has time to read? How do you make time to read, especially work that is generative to your own creative process? Were there particular texts that you turned to in writing Our End Has Brought the Spring?
One can get lost in the vortex of research, that's for sure. I have spent years reading books about WWII, Eva and Hitler. The first poems came about in 2009, but it wasn't until 2013 and 2014 that the other poems were written. I let the history and information fester until I felt that I was ready to write. The Banality of Evil by Hannah Arendt was instrumental to my thought process as I finished the manuscript.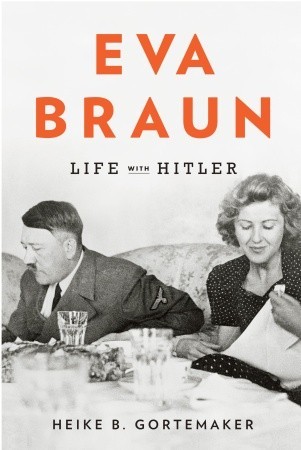 Here are some other books that were helpful:
Gold, Alison. The Devil's Mistress. Winchester, MA: Faber and Faber. 1997.
Gortemaker, Heike. Eva Braun. New York: Alfred A. Knopf. 2011.
Lambert, Angela. The Lost Life of Eva Braun. New York: St. Martin's Press. 2006.
Historical books about the war were important to me, but there are only a handful that actually focus on Eva Braun.
Regarding finding time: I don't watch TV. I haven't had cable since 2008 and I don't miss it. I do work full time, teach part time, parent two kids, so I may work slower than some writers, but I believe eliminating unnecessary time drains has raised my productivity level. Plus, if you are fascinated with a topic, it doesn't feel like a challenge to research and to read as much as you can.
You write in free verse, as well as in received forms. Our End Has Brought the Spring includes prose poems, often as dreams. Talk about the use of forms in your work.

Denise Levertov's essay "Some Notes on Organic Form" explores how form grows out of an experience.  She challenges the poet to discover the form in the process of writing. Most of my pieces begin with a phrase or an image as is the case with the sonnet "Heaven" in this chapbook. I didn't intentionally begin that poem in form; instead, I was imagining Eva locked out of heaven, watching others gain admittance, and I wondered how she would react, and what heaven's gates would feel like on her fingers as she strolls past. I think most poets work this way—beginning with a sound or an image and then deciding later if the piece calls for a form.
You are very observant. As in my other book, I tend to reserve prose poems for dreams and strange surreal scenes.  The lack of line breaks tends to convey a feeling of a never-ending nightmare or a continuous magical quality. In my poem "Hell," Eva is a hunted bird who is shot down over and over. There is no escape from the hunters. I wanted to convey that even though she may have been removed from the atrocities her lover committed against humanity that she, too, would have to pay for eternity.
For the most part I work in free verse. I like the juxtaposition, the swinging from line to line, and the forward momentum that lineated poetry offers.
How do you define chapbook? A collection of 20-30 poems that flow together well and hinge on a single persona or theme.

What makes a good chapbook? Revision requires that the writer find the best word and eliminate clutter in her lines. The chapbook does that on a larger scale–narrowing down the collection to the strongest pieces. When every poem is effective and the last line of one poem swings to the first line of the next, I find the verse lively. I like the brevity of chapbooks.

What chapbooks are inspiring you these days? One of my favorite poets right now is Dan Nowak. His chapbooks the hows and whys of my failures (Hyacinth Girl Press, 2014) and we were never built for warmth, but for finding (Yellow Flag Press, 2014) are intriguing. I have been following his career for a few years now and I am always pleased when I read a new Nowak piece.
What chapbooks or chapbook poets have impacted your writing the most? Shanan Ballam's chapbook The Red Riding Hood Papers published by Finishing Line Press in 2010 resonated with me. Shanan and I studied together in our MFA program and I read many of the poems in workshop and had the chance to see the pieces evolve. When the book arrived in my mailbox, I read it in one sitting, and have returned to it many times. I was impressed with her retelling, personalizing and modernizing of the story. Shanan inspired me to start work on a chapbook of my own.
What's next for you? Even though I completed the chapbook, I do not feel finished with Eva Braun yet. I am revising and writing more poems and hope to find the manuscript a home in the future. I'm also working on poems about my full-time position at the church. Because of the location of the church, I meet many people who are struggling from homeless veterans to mothers who do not have money for food and diapers.
Number of chapbooks you own: Somewhere around 40
Ways you promote and serve other chapbook poets: I attend as many readings as I can in Omaha. Since I work on the board of The Backwaters Press, I help organize and promote its quarterly reading series and also assist a couple of other reading series–creating flyers, Facebook events, etc. I think it's important to help promote poets especially chapbook authors.
Where you spend your chapbook earnings: Buying more books of course!

Residence: Omaha

Chapbook Bio: Cat Dixon works full-time as a church administrator and teaches creative writing part-time at the University of Nebraska, Omaha. She is the board secretary of The Backwaters Press, a nonprofit publishing house in Omaha. Her work has appeared in Sugar House Review, Midwest Quarterly Review, Coe Review, Eclectica among others. Her full length poetry book Too Heavy to Carry was published in 2014 by Stephen F. Austin University Press, and her chapbook Our End Has Brought the Spring will be published in June from Finishing Line Press.